Formerly a university teacher, I am now a freelance writer specialising in the theory and practice of diplomacy from the earliest times until the present. As well as hoping to encourage the study of diplomacy, this site provides periodic updating of my textbook (see immediately below). This page contains some news and views. The contents of the rest of the site can be navigated via the column on the left-hand side.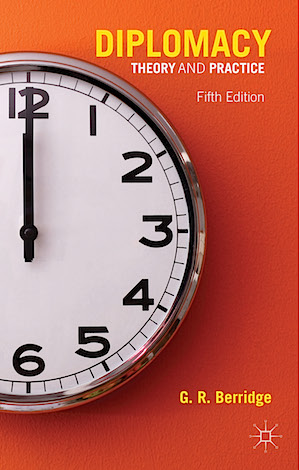 5th edition
(Palgrave-Macmillan: Basingstoke and New York, 2015)
Read more about this book
on the publisher's website.
CLICK HERE
FOR ONLINE UPDATING
a
From the back cover: 'Probably the most prolific contemporary writer on diplomacy is Professor Geoff R. Berridge … Each of his many books is impeccably written and full of insights into the fascinating formation of modern diplomacy" (Robert William Dry, New York University, USA, and Chairman of AFSA's Committee on the Foreign Service Profession and Ethics); "I discovered Geoff Berridge's book on diplomacy after serving as a diplomat for over 30 years. It is well-researched, sophisticated, inspiring and, where the subject invites it, suitably ironic" (Dr Max Schweizer, Head of Foreign Affairs and Applied Diplomacy, ZHAW School of Management and Law, Switzerland); "Berridge's Diplomacy is an enlightening journey that takes the student, the practitioner and the general reader from the forefront to the backstage of current diplomatic practice. The thoroughly updated text – also enriched with a stimulating new treatment of embassies – is an invaluable guide to the stratagems and outcomes, continuities and innovations, of a centuries' long process" (Arianna Arisi Rota, Professor of History of Diplomacy, University of Pavia, Italy).
LATEST BOOK REVIEW

LeoGrande, William M. and Peter Kornbluh,

Back Channel to Cuba: The hidden history of negotiations between Washington and Havana

(The University of North Carolina Press: Chapel Hill, 2014)

[

read review

].