Formerly a university teacher, I am now a freelance writer specialising in the theory and practice of diplomacy from the earliest times until the present. As well as hoping to encourage the study of diplomacy, this site provides periodic updating of my textbook (see immediately below). This page contains some news and views. The contents of the rest of the site can be navigated via the column on the left-hand side.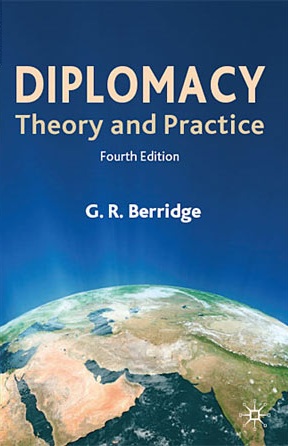 4th edition
(Palgrave-Macmillan: Basingstoke and New York, 2010)
ISBN 978-0-230-22960-0 (pbk)
Read more about this book
on the publisher's website.
CLICK HERE
FOR ONLINE UPDATING
a
From the back cover: 'This book remains the best introduction to the subject' (Alan Henrikson, Director of Diplomatic Studies, The Fletcher School of Law and Diplomacy); 'Berridge is the leading authority on contemporary diplomatic practice' (Laurence E. Pope, former US ambassador and senior official at the Department of State); 'Berridge's study of diplomacy is the standard text on the subject – succinct yet substantial in content, lucid in style' (John W. Young, Professor of International History at the University of Nottingham).
LATEST BOOK REVIEW

LeoGrande, William M. and Peter Kornbluh,

Back Channel to Cuba: The hidden history of negotiations between Washington and Havana

(The University of North Carolina Press: Chapel Hill, 2014)

[

read review

].