Formerly a university teacher, I am now a freelance writer specialising in the theory and practice of diplomacy from the earliest times until the present. As well as hoping to encourage the study of diplomacy, this site provides periodic updating of my textbook (see immediately below). This page contains some news and views ('Blog posts'). The contents of the rest of the site can be navigated via the horizonal menu at the top of this page.
Diplomacy: Theory and Practice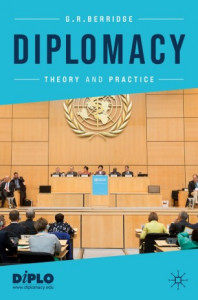 6th edition
(Palgrave-Macmillan: Basingstoke and New York, 2022)
NEW EDITION is now available here
After Kissinger's book, the most cited general work on diplomacy on Google Scholar's diplomacy page.
CLICK HERE FOR ONLINE UPDATING
From the back cover:
"This is a highly welcome update for the best general introduction to the theory and practice of diplomacy. It is clear enough to be recommended to undergraduate students, yet sufficiently thoughtful and incisive to be read with profit by practitioners and experts."
—John W. Young, Emeritus Professor of International History, University of Nottingham, UK
"Diplomacy: Theory and Practice is a tour de force in diplomacy scholarship. Geoff Berridge has not only written the definitive text in diplomatic studies; he has done so in a lucid, accessible, and engaging way that sets the gold standard for how books should be written. Weaving together historical cases with contemporary examples, Berridge has given us essential reading for any student of international politics."
—Marcus Holmes, Associate Professor of Government, College of William & Mary, USA
Outposts of Diplomacy: A History of the Embassy
(Reaktion Books, London, forthcoming)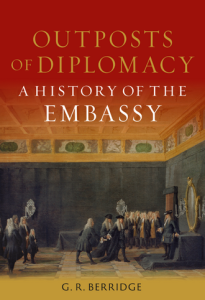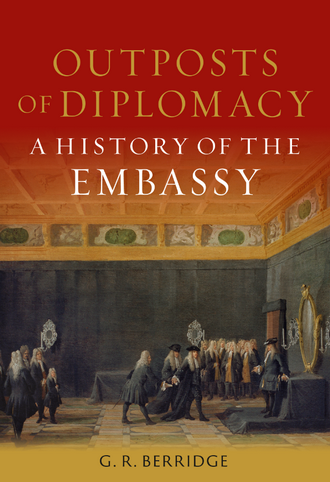 Publication of this new book is scheduled for 1 March 2024 in the UK and 1 May 2024 in the USA. The following text is taken from the publisher's catalogue. I add a little on this page.
234 mm x 156 mm | 312 pages60 illustrations
Hardback | £25
World Rights: Reaktion
PRE-ORDER
"A profusely illustrated history of the diplomatic embassy, from antiquity to today.
This compelling history traces the evolution of the embassy from its ancient origins to its enduring presence in the modern world. Beginning with the embassy's precursors in antiquity, Outposts of Diplomacy explores its emergence on the cusp of the Italian Renaissance, its pinnacle during the nineteenth century and its navigation through the challenges of twentieth-century conference diplomacy.
G. R. Berridge investigates how this European institution adapted its staffing, architecture and communication methods to changing international landscapes, including the tumultuous wars of religion and encounters in East Asia. He also describes the expansion of the embassy's responsibilities, such as providing diplomatic cover for intelligence operations. Infused with vibrant anecdotes of remarkable individuals and influential family dynasties, this book offers a profusely illustrated exploration of the embassy's rich history."