Formerly a university teacher, I am now a freelance writer specialising in the theory and practice of diplomacy from the earliest times until the present. As well as hoping to encourage the study of diplomacy, this site provides periodic updating of my textbook (see immediately below). This page contains some news and views. The contents of the rest of the site can be navigated via the column on the left-hand side.
Diplomacy: Theory and Practice
6th edition
(Palgrave-Macmillan: Basingstoke and New York, 2022)
NEW EDITION is now available here
Citations 2.5 times the 'discipline' average in 2018 (Bookmetrix)
From the back cover:

"This is a highly welcome update for the best general introduction to the theory and practice of diplomacy. It is clear enough to be recommended to undergraduate students, yet sufficiently thoughtful and incisive to be read with profit by practitioners and experts."
—John W. Young, Emeritus Professor of International History, University of Nottingham, UK

"Diplomacy: Theory and Practice is a tour de force in diplomacy scholarship. Geoff Berridge has not only written the definitive text in diplomatic studies; he has done so in a lucid, accessible, and engaging way that sets the gold standard for how books should be written. Weaving together historical cases with contemporary examples, Berridge has given us essential reading for any student of international politics."
—Marcus Holmes, Associate Professor of Government, College of William & Mary, USA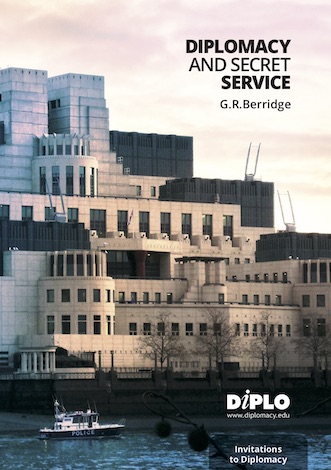 The front cover shows the building used as its headquarters by the British Secret Intelligence Service (SIS) since 1994. Inspired in design by Art Deco, Mayan and Aztec architecture, it is sometimes described mockingly as 'Legoland' but more commonly referred to as 'Vauxhall Cross'. This is because of its location adjacent to the major crossroads of this name in the Vauxhall district of south-west London; it is also close to Vauxhall Bridge over the River Thames. The building has served as a backdrop for a number of James Bond films. Photograph (cropped slightly for design purposes) by Jim Bowen, 22 November 2007, licensed under the Creative Commons Attribution-Share Alike 2.0 Generic.