Economic Power in Anglo-South African Diplomacy: Simonstown, Sharpeville and After
(London and Basingstoke, Macmillan, 1981)
G. R. Berridge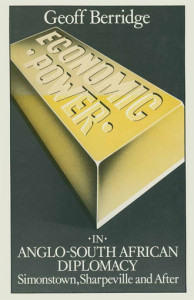 This was my doctoral thesis at the University of Durham in the early 1970s. Originally designed to test popular theories on the relationship between economics and foreign policy by looking at British relations with South Africa, Biafra and Malaysia (if I remember correctly), I never got beyond the South African case, although my intellectually challenging supervisor, Charles Reynolds, was more interested in epistemology and modes of imperialism and knew little about the apartheid state. As Adrian Guelke notes indirectly in his review (see below), the thesis was also written without benefit of access to British official documents, which at the time of writing remained closed under the 30-year rule. It was read for the publisher, Macmillan of London, by R.W. Johnson, who was making a name for himself with his book How Long Will South Africa Survive? Johnson supported its publication subject to a fairly radical dilution of its emphasis on theory. The book's readers, he reported, will 'want the goods on British/South African relations (which he's got) and will be put off by the heavy theorising.' I accepted this criticism without reservation, made the required changes, and Tim Farmiloe, then Macmillan's legendary Social Sciences editor, rather took me under his wing. This led to two further books on South Africa (based on much firmer sources) and a publishing career largely spent with Macmillan, later Palgrave Macmillan.
Amazingly, I see that Springer (which absorbed Palgrave Macmillan some years ago) are still marketing the book  The front cover features a large gold bar because South Africa's marketing of new-mined gold via the Bank of England gave Pretoria considerable leverage in London.
Reviews
From The Journal of Modern African Studies, vol. 21(1), March 1983
… Economic Power in Anglo-South African Diplomacy sets out to show why Britain's relationship with the Republic between I950 and 1970 remained so diplomatically close despite being surrounded by international controversy. The author rejects 'the establishment view', which argues that political and security matters were the deciding factor, as well as 'the radical view', which emphasises the importance of investments. In a closely argued and detailed piece of historical research, making use of a secret exchange of letters between the two Finance Ministers (R. A. Butler and E. H. Louw) in I955 on gold, Berridge explains that London's 'friendship' with Pretoria was the product of a well-organised lobby in the City and economic pressures from South Africa. It is this discussion of leverages exerted by the Republic, rather than by the West, which makes his analysis so interesting and provocative.
… The economic strength of South Africa came from its hold over the British economy: imports from the Republic were small when judged in proportion to the total, but they included raw materials of enormous importance for British industry, energy, defence, and for the Bank of England's financial role – namely, gold, uranium, and industrial diamonds. …The author discusses the Simonstown agreements of 1955, the post-Sharpeville crisis, and the policy of the I 964 Labour Government, to show that South Africa had the will and the skill to carry out her threats' … the analysis is perhaps overdrawn for the period since I 970, bearing in mind South Africa's continued dependence on imported oil, and the destabilising effect that a low gold price has on her economy and political stability. Having said this, the dilemma of Britain's South Africa policy, as explained so convincingly by Geoff Berridge, remains pertinent today, John D. Brewer, Department of Social Studies, Queen's University, Belfast.
From International Affairs (Royal Institute of International Affairs, 1944-), vol. 58(3), Summer 1982.
This meticulously researched and closely argued book focusses on an almost wholly neglected aspect of Anglo-South African relations: the contribution South African gold made to the support of sterling between 1950 and 1970. A subsidiary theme is the importance to Britain of South African uranium sales in the mid-1950s. Drawing on Klaus Knorr's work on the politics of international economic relations, Berridge argues that gold and to a lesser extent uranium provided the South African government with leverage over Britain which it used to extract political concessions from successive British governments. … The evidence Berridge presents to show both that South Africa was in a position to use the gold weapon … and that it did so or threatened to do so is impressive, if largely circumstantial. … However, Berridge is mistaken if he believes that in showing weaknesses in these views [the rival 'establishment' and 'radical' explanations of British policy towards S. Africa] and by contrast highlighting the importance of the monetary role of South African gold, he has provided anything like a complete explanation of the intimate relations between the two countries. … Nonetheless, South Africa's use of gold as an instrument of diplomacy is a fascinating story which he tells very well in a way that is easy to follow, with the technical details set out in a series of statistical appendixes. Indeed, the pity is that he stops at 1970 and makes no attempt to sketch in subsequent developments or to characterise the present relationship, A. B. Guelke, Queen's University of Belfast.