The Politics of the South Africa Run: European Shipping and Pretoria
(Clarendon Press: Oxford, 1987)
254 pages, with index.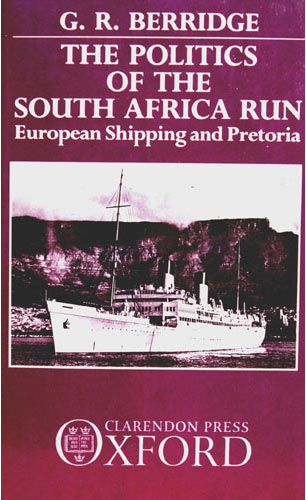 Some time after this book went out of print, now many years ago, I found a message on my answer-phone from a London businessman involved in South African shipping. He asked if I were 'the G. R. Berridge who had written the book on the politics of South African shipping' and, if so, could I help him find more copies. On admitting to authorship when I returned his call, he said that he had managed to secure a copy for himself but was constantly in danger of losing it to other members of the South African shipping community, who had discovered its manifold virtues too late. Thus flattered beyond my feeble powers of resistance, I sent him one of my two remaining copies and promised to explore the possibility of a re-print. OUP, however, did not think this 'viable' – despite the abundant evidence of pent-up demand in at least two Cape Town office blocks. Fortunately, it still turns up on the second-hand market, of course, and as I write (April 2017) I see that 4 copies are available via abebooks.co.uk. and 11 on Amazon.
The book is based on work in archives throughout South Africa, at the Public Record Office in London (now the 'National Archives'), and above all among the papers of the British & Commonwealth Shipping Company at their offices in St. Mary Axe in the City of London and on the premises of the 'Conference' controlling the trade, then located in New Bond Street, London. It was access to these private files, zealously guarded until generously opened to me by the late Lord Cayzer and the then Conference Chairman, the late Mr Neil M. Forster, that give the book its authority. With my assistance, the Joint Meeting Minutes of the South African Conference Lines were subsequently transferred to the National Maritime Museum at Greenwich.
I was particularly pleased with the reviews, which can be read below.
---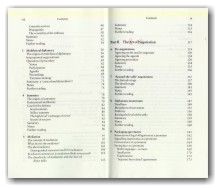 CONTENTS
List of Tables
Abbreviations
Introduction
'Partnership' with Smuts, 1944-1948
Collision with the Nationalists, 1948-1955
The Pretoria Formula, 1955-1964
Sanctions and Sovereignty, 1964-1966
The Testing of the New Alliance, 1966-1968
The OFA in Danger, 1969-1972
Boxing in the Government, 1973-1974
'Bedevilled by Politics', 1973-1977
'The New Era', 1977-1985
Conclusion
Appendices
The Lines in the South African Conference, 1981
The South African Merchant Fleet, 1947-1985
Union-Castle, the SA Commercial Banks and the NFC:Deposits in and Remittances from, 1950-1952
The Programme for the De-requisition of the Union-Castle Fleet Prior to the Negotiations for the Special Immigrant Service
The Composition of the SA Shipping Board
The Pretoria Formula
The Revised Pretoria Formula
General Increases in Freight Rates in the Europe-South Africa Trade: Northbound and Southbound, 1951-1985
Changes in Northbound and Southbound Freight Rates in the Europe- South Africa Trade since 1951: An Index Based on Rates in 1950
The Northbound Trade, 1964: Contract and Non-contract Cargo, and Perishables
B & C Political Contributions, 1967-1984
List of Sources and Select Bibliography
Index
Reviews
'Preface acknowledgements do not usually include thanks to publishers for help on deciding the book's title. Yet OUP's and Dr Berridge's combined wisdom have not entirely succeeded in conveying the scope of this wide and important study. The book ranges over recent political history, as up to date as publishing time-lags allow; maritime economics; multinational enterprise; international diplomacy and, in a narrower context, South Africa's reactions to sanctions against apartheid. Above all, however, this is a sound business history, which will reassure those – such as Professor Donald Coleman – who have expressed anxiety that the subject is becoming dominated by dangerously near-hagiographic commissioned company histories. Perhaps it is because Dr Berridge's approach is that of a scholar of politics, rather than of history, economics or economic history, the more usual qualifications for writing business history; his work is certainly indicative of how multi-disciplinary our subject is.Dr Berridge is also adept at keeping all these balls in the air. His handling of the inter-relationship between many complex issues is most impressive. He examines how South African politicians used European shipping to promote their own national policies, such as General Smuts' immigration plan, announced in August 1946. He explains the paradox of Pretoria's achievement, despite at first a heavy dependence on European shipping, of encouraging the expansion of the native South African mercantile marine, and keeping northbound freights low. He shows how merchant fleets – even someone else's – could become tools of diplomacy, in maintaining support for South Africa in Italy, Spain, Greece and particularly Mozambique.It is scholarly but not ponderous; confident but not dogmatic; controversial but not sensational. Dr Berridge puts his cards on the table: he comes out in clear opposition to the Marxist historiography of corporate-government relations, through his emphasis on the continual swings-and-roundabouts between businessmen and politicians. Dr Berridge's account of the political bargaining of Sir Vernon Thomson of Union-Castle and of the shrewd Cayzers – based on perceptive and carefully-handled oral evidence – is reminiscent of the governmental negotiations of the Inchcape companies after Independence in India, and Dr W. J. Reader's comment – of Unilever – that a company with capital committed overseas is far more of a prisoner than an overmighty subject.This exhaustively documented analysis, which has trawled the records of a plethora of organisations and institutions – including over 25 shipping companies alone – is a crucial contribution to understanding the economic and political relationship between South Africa and the West. And it is a convincing justification of the value of business history in the widest possible context',Stephanie Jones, London School of Economics and School of Oriental and African Studies, Business History.


---

'Understanding South Africa's relations with Western capitalism is greatly aided by this absorbing and at times dramatic study of the ways in which the South African government has enlisted European shipping companies in the service of its national interests … The detailed exposition of the story, heavily documented by a lecturer at Leicester University who has made a special study of South African politics, is one that is both an object lesson in the relations of shipping and governments and also a dramatic chapter in the story of conference shipping', Lloyd's List.


---

'Geoffrey Berridge's thoroughly absorbing book is a major contribution to a hitherto largely ignored theme. It says a great deal about the author that he spotted this gap in the course of his research for his earlier book, Economic Power in Anglo-South African Diplomacy (1981), and has now remedied it so handsomely and rapidly. Berridge was struck, as we all should have been, by the unusual significance shipping must have for the South African economy … Berridge has looked at how successive South African governments since the Act of Union have coped with this, and has come up with some startling new evidence …
This excellent and accessible volume can be thoroughly recommended to anyone interested in the intricacies of world trade diplomacy, as well as in the political economy of South Africa', Richard Rathbone, School of Oriental and African Studies, International Affairs.

---

'A well-written and informative study … Berridge offers interesting theoretical insights … This is an important contribution to understanding South Africa's role in the international political economy. The book stands by itself in South African studies because of its own merits, and because of the paucity of analyses on the impact of shipping on South Africa', R. Fatton, Jnr., University of Virgina, Choice.


---

'a valuable contribution to an area of research whose importance has only recently been recognized … soundly based on archive material … This book is warmly recommended to transport specialists and to readers with a more general interest in the affairs of Southern Africa', Freda Harcourt, Queen Mary College, London, African Affairs.