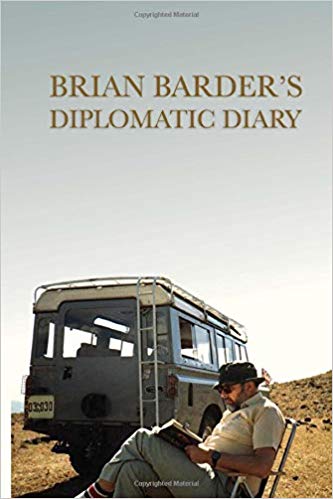 Barder, Brian, Brian Barder's Diplomatic Diary, ed. Louise Barder (privately published: London, 2019), pp. 307. Paperback ISBN 978-1-944066-29-1; hardback ISBN 978-1-944066-25-3. Available from Amazon, as well as other booksellers.
Sir Brian Barder, the senior British diplomat and author of the always sage and sometimes gripping What Diplomats Do, died in 2017 but, courtesy of the professional editorial hand of his daughter Louise, has left us another treat. This is what he called a diary and which for the most part has the form of a diary (dated daily entries), although originally it was a series of letters sent to friends from foreign parts. Compared to diplomatic memoirs, diplomatic diaries are a rarity. And since this one is the product of an acute observer who loved the English language and used it in a vigorous and creative style, the appearance of this volume is doubly welcome.
The diary does not cover Barder's early career, which started in the Colonial Office in 1957, but begins when he arrived in Moscow in February 1971. In that important embassy he was first secretary political, number two to the head of chancery and also press attaché; in September, when his immediate boss went on leave, he became acting head of chancery and right-hand man of the ambassador just as the crisis began in Anglo-Soviet relations provoked by the expulsion of 105 Soviet intelligence officers from London (at almost 100 pages, the Moscow diary is the longest in the book). The next chapters deal with Australia in the mid-1970s, where he was counsellor head of chancery and a little over two years after his arrival faced the political crisis prompted by the sudden sacking of prime minister Gough Whitlam by the governor-general, who looked 'as always like Mr Micawber, portly in morning coat and top hat, his thick snowy hair flowing out of it and setting off his florid petulant baby face, plum-coloured with tan or anger or both.' There follow chapters covering an eleven month sabbatical in 1977-8 with the Canadian National Defence College while awaiting the outcome of a radical report on the Diplomatic Service; and finally all of his head of mission appointments bar the last one. These were in Ethiopia, where in the mid-1980s Barder substantially overlapped with an appalling famine that attracted world-wide attention; Poland, in the last years of its Communist regime; and Nigeria, stagnating under yet another military junta at the end of the 1980s. Were it not for the relative stability prevailing at the last two postings, Barder might have been thought of as a diplomatic storm crow.
As a diary not remotely composed with a view to providing a record for historians, this volume has obvious weaknesses from the scholar's point of view. Diplomatic historians will lament that it contains little on the policy questions that Barder was involved in with his local interlocutors or advice given to London; area specialists on South Africa during the later apartheid years will regret that he kept no diary at all during his London postings, for he was head of Southern Africa Department in the FCO from 1978 until 1982 when the future of Namibia was in the balance; and harried scholars generally might be annoyed that the volume has no index. But for historians of diplomatic method, lovers of travel writing, students who wish for a companion volume to bring more colour and humour to the author's What Diplomats Do, and finally for the many followers of the author's well known blog who would like to know more about the man behind it, this book is a must. (The blog has been archived by the British Library because of its 'high quality'.)
Barder did a vast amount of travelling while at his various posts, some for holiday with his wife Jane and their children but most on duty. And his descriptions of the landscapes and townscapes he saw are vivid and discerning; for example, Leningrad (formerly St. Petersburg) was 'like a vast disintegrating museum: the great facades are crumbling as fast as the palace next door is restored, nothing is used for the purposes originally intended, the life-style of the society which camps out in all this baroque splendour is all at odds with its spirit, and the only new buildings are a desecration.' The difficulties and occasional perils of travelling and finding accommodation, especially in the Soviet Union and Africa, also find much space in the diary and are often the targets of his dry wit. Typically self-deprecating, he refers at one point to the time when 'diplomats were travellers rather than tourists' but there are passages in this book which show that Barder did not always travel with the comfort and carefree attitude of the tourist. Even his Moscow flat was no paradise: 'The cockroaches are drawn up in orderly ranks to receive us,' he noted of his return to it on 10 May 1972.
What comes out with particular force from the diary is just what a huge, unvaried and often unappetising chore can be the representative work of a conscientious ambassador like Brian Barder. This is because – aside from information gathering and reporting and, in exceptional circumstances such as those in the Ethiopian famine, supporting a major aid mission – this is what the duty of travelling is all about. By April 1990, while in Nigeria, he was beginning to describe his official visits and courtesy calls as 'identikit' tours. 'Much of the time,' he records on 26 August 1989, 'we were escorted by police cars with flashing lights and howling sirens, government protocol cars with protocol officials leaning out of the windows trying to bash passers-by with truncheons …'. Courtesy calls to traditional rulers also had a habit of ending on the same note, he wrote from Lagos in April 1990: 'Your Excellency, it is a great honour and pleasure … my people are suffering from … because of our historic connexions we look to Britain … just a modest residential school complete with staff [would be very welcome]… before We wish Your Excellency Godspeed, hope We may seek your immediate intervention to settle a small problem over Our niece's visa … .' With the completion of one more tour inside Nigeria, he added to this entry, 'we shall have visited and done our official calls in all 21 of the State capitals and the Federal Capital Territory of Abuja' – a sigh is almost audible. As generous as ever, however, he acknowledges an upside to his representational duties, not least in Nigeria: there were 'also plenty of friendly and often impressive people to meet.'
While I have said that there is little in the diary for diplomatic historians, those with an interest in Anglo-Soviet relations will get from it the flavour of the atmosphere in the Moscow embassy in September and October 1971 when the sensational news was received about the 105 Soviet intelligence officers to be expelled from the UK. As acting head of chancery, Barder accompanied the ambassador, Sir John Killick – only just arrived in Moscow – to the Soviet Foreign Ministry during these weeks and also had to field a British press corps clamouring for information. He was relieved that he was not among those expelled from Moscow in retaliation, for it would have been 'pretty disastrous financially, disruptive for the children, and generally unsettling'; besides, it would have been disagreeable to be treated 'like a thing' in a tit-for-tat exchange. There is far more detail on this affair here than in the transcript of Barder's interview for the British Diplomatic Oral History Programme (BDOHP), instructive though this is on other stages in his career.
The diary is also illuminating on the pleasures as well as the trials an ambassador might find in accommodating streams of visitors from home, and on the trials devoid of pleasures in dealing with business and press moguls gate-crashing such tragedies as the Ethiopian famine.
This brings me finally to note a reflection made by the author in his Ethiopian diary of 19 April 1983 after he had described, almost with envy, the affection and respect reported to have been earned by a relief worker he had just encountered. 'Not for the first time in one's dealings with relief workers,' he wrote, 'diplomacy is made to seem a superficial, shallow, almost shameful occupation. Definitely not one of the caring professions, anyway.' This is a clear echo of the outlook that ripened when he joined the Colonial Office in the Home Civil Service in 1957. Unique among Whitehall departments, this prided itself on putting the interests of colonial peoples before narrow British national interests. As Barder, a life-long socialist and for the greater part of his career a member of the Labour Party, explains in his BDOHP interview, it was only with reluctance that he switched to the Diplomatic Service in 1965 after the Colonial Office had been made obsolete by decolonization. He did not believe that diplomacy was truly a shameful occupation and his own career, much of which is illuminated by this diary, is eloquent testimony of the opposite. But the fact that he could muse on the idea shows just what a fundamentally decent and thoughtful man he was, as well as an outstanding diplomat. I strongly recommend this book.